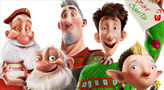 Arthur lives with his parents Malcolm "Santa" and Margaret Claus his older brother Steve and his Grandfather Grandsanta in the north pole, where it is cold and snowy. Santa delivers Christmas gifts to children round the world with the help of his elves and supersonic S1 space carrier sleigh.

Steve is the manager of the delivery department and is boss of all the elves whom help wrap all the Christmas presents in preparation for the S1 rocket and Santa to deliver all the presents.
It's a big task to ensure all Christmas presents are delivered, so Steve operates the delivery department in a corporate business manner. Head of the elves is Bryony Shelfley from packaging.
Arthur whom reads all the kids Christmas present lists, watches as the whole Claus family drafts in preparation for Christmas Day.
Arthur starts to get involved with the family business only to discover that a little girl Gwen Pines from Cornwall in the UK for some reason didn't receive her presents from Santa.
So he gets together with GrandpaSanta and with the help of his light-up reindeer slippers gets out the old sleigh and reindeers and saves the ... The story continues... thanks to Arthur
Community content is available under
CC-BY-SA
unless otherwise noted.